This beautiful peak is located in Kazbegi municipality, on the Khokh Range at 5054 meters above sea level. It has several names: "Mkinvartsveri", "Bride of Khevi", "Gergeti". But the most known name outside of Georgia is Mt. Kazbek.
In Georgia there are many hiking trails and places with view points on Mt. Kazbek, from where you can see it and be inspired by its beauty, but to step on the top by yourself is a completely different emotion and experience.
On the way to the top, at 3680 meters above sea level you will reach a meteorological station, so-called «Bethlemi hut». Climbers and tourists use part of it as a base camp. It is a great place to refill water bottles, rest and recuperate.
It is often said mountains have fickle feminine character. Kazbek is no exception. Fortunately the summit «bride» greeted me with perfect weather.
While climbing to the top of Kazbek, you will feel love of nature in its best way. Conquering the peak is real happiness.
Final part of the way starts late at night. You can see nothing around yourself, but the light of your own headlamp showing the path through darkness and mountain rise.
At dawn other peaks become visible along with sea of clouds and orange sky … It was the best sunrise in my life.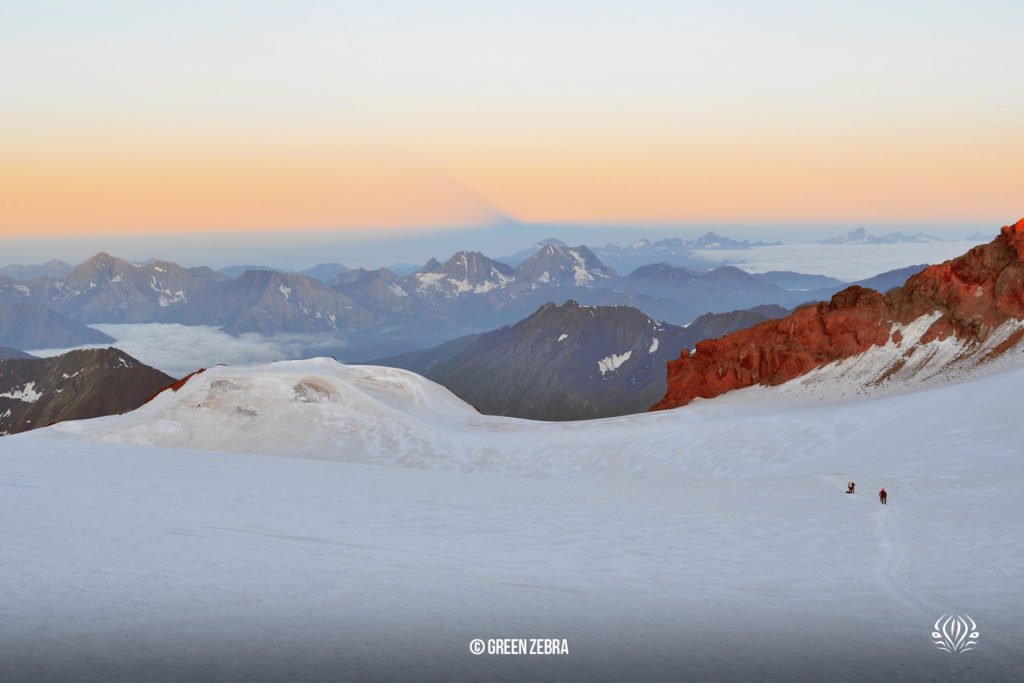 Large amount of people makes the moment less enjoyable but whatsoever. At the end standing there, watching from 5054 meters above the world and enjoying my successful climb gives me indescribable feeling nothing can interrupt.
The mountains are the best place to discover yourself and understand the edge of your capabilities.
Everything is great here. You forget all the bad things that are left down in the town.
When you are roped with other members of the group and climb a glacier full of cracks you understand how important communication and respect to each other are.
P.S. Only a few days after coming back from the top, you will be haunted by the idea to return there and experience these incredible emotions again.
Special thanks to the Public Organization «Aisi».